10 Best MMORPGS for Android and iOS (2019)
, 3 weeks ago
0
5 min

read
20
It is only with the best MMORPGs for Android and iOS that fans of this classic genre can find mobile experiences that are up to the adventures provided by PCs. And yes, it was because of this that I decided to create a list with 10 great options. As you will notice, I focused only on the most appealing games to the public. That way, you just have to worry about downloading and starting a new and incredible journey… shall we start?
Video version:
1. Black Desert Mobile
To open this list with the best MMORPGs for Android and iOS, my chosen one is the powerful Black Desert Mobile. This game is a success around the world and, because of that, it keeps getting updates constantly, which makes it always more interesting. Endowed with high-level graphics and action-packed gameplay, this title brings a vast world, in which exploration guarantees strong emotions. The game requires a little more robust phones, but it is an alternative that deserves a lot of attention.
Download:
2. Runescape Mobile
Although still on the Early Access regime, Runescape Mobile it is already one of the most interesting MMORPGs for mobile devices. And that happens, because the game ends up "hitchhiking" in the success of one of the most important MMORPGs in all of history, that is, Runescape. In this mobile version, the main attractions of the classic game are available to players and that means the guarantee of a gameplay full of beautiful mechanics. Legend!
Download:
3. Oldschool Runescape
Since I mentioned the legendary Runescape, nothing better than citing the most classic version of that game: Oldschool Runescape. As the title suggests, this is an option more geared to veteran players, as the game's constructions refer to the early years of Runescape. Logically, as it has a "retro" aspect, this option ends up being very interesting for players with more modest cell phones. So, if that's your case, be sure to check it out!
Download:
4. Take Online
Very well rated by its fans, Toram Online is another option that could not be left out of this list with the best MMORPGs for Android and iOS. The game is a "root" MMORPG, with a visual style geared towards the anime side and a gameplay full of peculiar mechanics. Another interesting point in this game is the simplicity. Everything is so intuitive that any fan of the genre already sympathizes with this alternative in the first minutes.
Download:
5. Raziel
To close the first half of this list, we have the incredible Raziel. This is the kind of game that soon catches the attention of fans of the Diablo franchise games, as its buildings display isometric scenarios rich in details and its gameplay brings together elements typical of the ARPG and Hack and Slash genres. To top it off, the title still has enormous visual appeal and options that favor cooperative gambling as much as possible. Very good!
Download:
6. Genshin Impact
Entering the second half of this list with the best MMORPGs for Android and iOS, we come across Genshin Impact. Even though it is one of the most recent options on this list, the game can already be considered a true phenomenon. With its huge visual appeal and beautiful open world, this game offers an experience close to that offered by the iconic The Legend of Zelda: Breath of the Wild, but without being a blatant copy, as many have said in the past. Big game!
Download:
7. AdventureQuest 3D
Following the line of great MMORPGs from the past, AdventureQuest 3D it is a versatile option, which can please veteran players and younger players alike. Its graphics are not an example of technical perfection, but this "weak point" is compensated with creative mechanics and a really fun overall experience. It should be noted that the game also has many options to optimize the development and customization of the characters.
Download:
8. Albion Online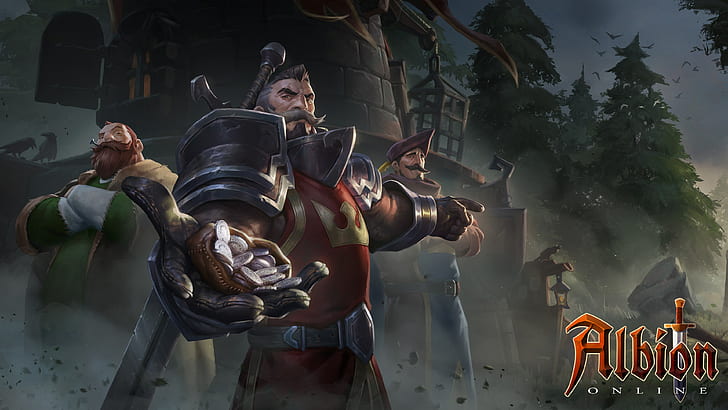 A lot of people don't remember, but Albion Online it also has a very good version for mobile. Entitled to cross-play with the game version for PC and Mac, Albion Online appears as a great option for fans of Sandbox mechanics. The game is basically a mix of Tibia and Runescape, offering classless gameplay and an entirely player-driven economy. Here's a note: the Android version must be downloaded directly from the game's official website.
Download:
9. Ragnarok: Eternal Love
The name Ragnarok is so important for MMORPGs that I could not fail to mention at least one option in this "franchise", right? Well, in that case, my highlight goes to Ragnarok: Eternal Love. In a very interesting way, this game can replicate all the appeal of the classic Ragnarok, which makes the journeys very nostalgic. As could be expected, the graphics were modified, but creativity continued at the highest level.
Download:
10. Villagers and Heroes
To close this list with the best MMORPGs for Android and iOS, I decided to quote the beloved Villagers and Heroes. It has been a long time since this game has been on the favorite lists of players and its high quality constructions, as well as its gameplay, are the perfect justifications for this favoritism. The game has classic mechanics of the genre, many quests, many events and countless forms of interaction between players. Unmissable!
Download:
https://www.youtube.com/watch?v=Xh6fvYCfvO0
Related posts
Minecraft shooting: best free pixelated shooters!
Minecraft shooting is a type of FPS (First Person Shooter) with pixelated graphics. It is ideal for those who like…
FIFA 21 forwards: better, promising and good and cheap!
Lionel Messi is the best striker in FIFA 21, after all he is the best athlete in the entire game!…
Sign up for our newsletter
* You will receive the latest news and updates